ANNOUNCING UPCOMING WEBINARS
WCCD  is offering the webinars below, via zoom during this time of the Covid 19 pandemic time. A zoom access link will be sent by email once you register, which is required.
Once the weather is more favorable, we hope to offer small outdoor in person workshops.
Other workshops offered in the past have been on a variety of topics related to Soils and Soil health, Water Quality, Gardening and Farming, Climate Change Adaptation, Forestry and Wildlife Habitat, and Food preparation, Food Waste, and Composting. Our staff and affiliates can offer workshops or guest lectures upon request. Just email our administrator, Lisa Trotto at with your interest or a request or for more information.
WCCD has partnered with North County Land Trust for a grant to bring you webinars this spring and to provide direct assistance with landowners about conservation and land protection.
North County Land Trust, Inc. (NCLT) is a non-profit 501 (c) 3 regional land conservation organization founded in 1992.
Our Mission is to conserve the farms, forests and landscapes that define the character of our region.
•PROTECT: Identify natural resources, working lands and landscapes whose conservation is of the highest priority.
•PRESERVE: Conserve land in perpetuity for future generations.
•PROMOTE: Engage communities to understand and appreciate their natural environment and the importance of conservation.
Past Workshops and Webinars: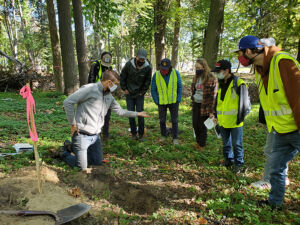 Tree-soil interactions 101, how to make a soil map, and considerations for successful tree planting.
Friday, March 19, 12:00 noon
Speaker: Joel Betts, Worcester County Conservation District
People too often forget about the unseen half of trees underground, yet the inherent and dynamic properties of the soil in which a tree is growing can make the difference between if it succeeds or fails. This webinar will take a deep dive into the intersection of soil science and forest ecology with practical implications for forest management and tree planting. Attendees will learn how to; use free mapping tools to create a soil map for their property and take a soil test to determine what might grow best on that location.
Click here to watch recorded Webinar
Native Plants and Birds: What's the Connection?
Friday, March 12, 2021, 12:00 noon
Speaker: Martha Gach of Mass. Audubon. How does growing native plants help birds? We will connect the dots between native plants, gardening practices, insects, and birds, and show you how to create a landscape 'that's for the birds'.
Lawns and Lawn Alternatives
Monday, March 8, 2021. 7:00 pm
Speaker: Gretel Anspach of Massachusetts Master Gardeners Association.
Lawns are imported garden fixtures from places with cool, wet summers. Here a "perfect" lawn is a major drain on water supplies, a source of pollution, and a lot of work. Look at options for tailoring your lawn and your lawn care to fit your needs, potentially eliminating hundreds of hours of labor and expensive treatments every year. The talk will include some discussion of alternatives to the traditional grass lawn.
Installing Raingardens with Native plants for Healthy Waters
Friday February 26, 2021 12:00 noon
Speakers: Edward Himlan, Massachusetts Watershed Coalition, and Joel Betts, Worcester County Conservation District. Nearly every property contributes polluted stormwater runoff to its local waterway. Learn about potential sources of pollution from your property and how installing a rain garden could address these while providing many additional benefits. Then get into the details of how to successfully plan, install, and maintain a rain garden and the benefits and requirements of specific native plants that can do the job.
For additional resources see: Calvin University webpage
Images from Past Workshops: