How the Seedling Sale Works
Order ONLINE from February 1 through March 31, 2021.
Pick up plants: Saturday May 1, 2021 at one of the following locations:
Jordan Dairy Farm, 51 Muschopauge Road, Rutland 
Sholan Farms, 1125 Pleasant Street, Leominster 
Davidian Brothers Farm, 500 Church Street, Northborough
Cooper's Farm, 515 Henshaw Street, Rochdale
Douglas Orchard and Farm, 36 Locust Street, Douglas
Red Apple Farm, 455 Highland Avenue, Phillipston
Volunteer Information
Each year our Seedling Sales are successful due to the good spirits and diligent work of our volunteers.
Please consider spending an afternoon with us at Jordan Dairy Farm in Rutland to prepare customer orders!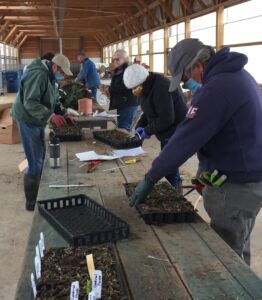 THANK YOU!