Call Us: 508-829-4477 ext. 5
Conservation Innovation on Davidian's Farm, a WCCD collaboration
In 2020, WCCD supported Davidian's Farm Market in applying to a Conservation Innovation Grant from the USDA NRCS, and the project was awarded funding for a 3-year on-farm trial for soil health practices. The project is titled "Maintaining Soil Health by integrating Cover Crops and Reduced Tillage using a New Plastic Mulching Technology in Shaped-Bed Vegetable Production." WCCD is excited to work closely with Davidian's Farm Market to carry out this trial and to host workshops and presentations with other local producers on the topic!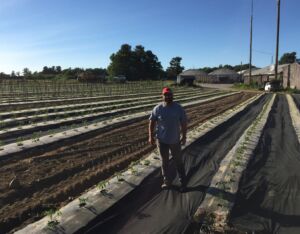 Conventional tilling for vegetable and grain production results in the loss of soil organic matter, and as a result, soil can lose the ability to retain nutrients, moisture, and beneficial biota—ultimately reducing soil health. Ways to improve soil health can involve conservation tillage, no-till, reduced till, crop rotation, and cover cropping, and are being increasingly promoted in New England to address degradation of soil health.
Shaped-bed vegetable crops like the tomatoes at Davidian's Farm (pictured above) benefit from supple soil, plastic mulch, fertilizer, and drip irrigation, thus they require many passes with a tractor using multiple kinds of equipment, through a process that results in the disturbance and exposure of soil. New technologies created for shaped-bed vegetable production can complete more steps in one pass, thus reducing negative impacts. For example, the FORIGO Stone Burier Model G35 can bury stones, form a shaped-bed, fertilize, and lay plastic and drip tape in one pass. Integrating the use of this tool with other soil health practices could reduce soil disturbance and compaction, and limit the loss of soil moisture, organic matter, and nutrients. This project proposes to do just that. Davidian's Farm has been working with NRCS to implement soil health and conservation agriculture practices over the last five years. They currently use cover crops in all production systems and no-till practices for sweet corn and pumpkin production.
The FORIGO Stone Burier Model G35 has presented an opportunity for the farm to integrate cover crops and reduced tillage into conventional shaped-bed vegetable production, while reducing emissions and inputs. This trial is for a cropping system that uses a biodegradable plastic mulch for vegetable crops on a shaped bed, with a cover crop between the vegetable rows. The new FORIGO stone burier will allow the farm to establish shaped bed vegetable rows with only one tractor pass and no herbicides, while maintaining cover crop in the aisles, thus keeping soil intact. This cropping system will be compared to a conventionally tilled and shaped-bed system that uses weed mats instead of cover crops and involves seven or more passes. Our study design involves two fields side-by-side, with conventional, semi-conventional, and cover cropping techniques (see below).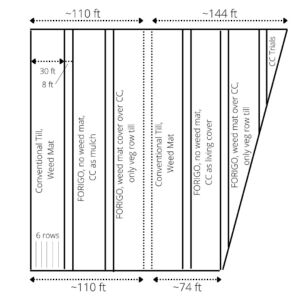 Description: In year one, field 1 will start with peas and oats, and be transitioned into shaped-bed summer squash production with three treatments. Treatment 1 is conventional tillage using a few passes with a harrow, picking stones manually, and a traditional soil conditioner, with a weed mat for weed control. Treatment two is using the FORIGO Stone Burier in one pass, with a weed matt for weed control. Treatment is like treatment two, but leaving the peas and oats growing (mowed) in the aisle for weed control. Field 2 has the same set up as field 1, but uses crimson clover as a cover crop, and teff planted in the aisle of treatment 3 to offer additional weed control.
WCCD hopes that compared to conventional practices, the trial will improve soil health; increase soil moisture, aggregate stability, nutrient availability, and organic matter retention; reduce compaction; and decrease fuel, water, fertilizer, and herbicide needs—while providing similar weed suppression and similar yields to conventional methods. WCCD will be gathering data with Davidian's Farm to assess these benefits.
Soil Testing
The new "Comprehensive Assessment of Soil Health", a soil test from the Cornell University Soil Health Laboratory, will be used to collect data on soil health and composition. It measures: Textural Class, Available Water Capacity, Surface Hardness, Subsurface Hardness, Aggregate Stability, Organic Matter, ACE Soil Protein Index, Soil Respiration, Active Carbon, Soil pH, Extractable Phosphorus, Extractable Potassium, Nitrogen, and Minor Elements (Mg, Fe, Mn, Zn). WCCD is excited to try out this new soil test and hopes to learn from the experience to incorporate it into our soil testing offerings for other farmers and gardeners.
If you are a farmer and are interested in joining a workshop or learning more about the project, the FORIGO G35 Stone Burier, or our cover cropping strategies, please don't hesitate to reach out to our Conservation Planner, Joel Betts at . Our first workshop will be on July 16th at Davidian's Farm, and will be open to Vegetable Farmers of a >5 acre scale. Contact for a registration link.